"Wash Bay Heroes" | Keeping Kitsap Drivers Fresh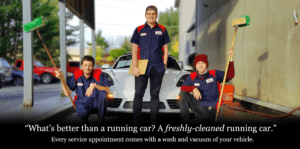 If you're already a customer of Liberty Bay Auto Center, you've certainly noticed that the vehicle you step into after taking care of the bill is different. You can't quite put your finger on what it is… it's your car, of course, and it drives better, having just received the specialized care of an LB technician; but that's not what we're talking about here. Upon closer inspection, you notice your collection of windshield pine needles is gone, you might also have observed that the sand your kids were saving from last summer's beach trip has vanished from the seams of your back seat. Suddenly it becomes clear, and you may have had to stop yourself from exclaiming loudly, "someone cleaned my car?!"
You've got one specific team to thank for that deed, and that's the small crew of hard-working Liberty Bay Service Lot Attendants, operating out of their own modest space in the shaded back-area of Liberty Bay Auto Center. The "wash bay," as most refer to it, has been an integral part of Liberty Bay's Service Department for as long as anyone can remember, even resident Euro-Technician Russ Shorten, who's been with the company since its opening in '89, admits that he doesn't remember a time that a good wash n' vac hasn't been included as part of a service visit.
The responsibility of car cleanliness and facility upkeep has rested upon the shoulders of many hard working entry-level workers over the years. In fact, you'd be hard pressed to swing a dead catalytic-converter around the technician's shops without hitting someone who entered the dealership business through this channel, be it here or at another store. Among these washers of cars past is recently welcomed Service Manager Jarret Abrahamson, as well as Service Advisor Brent Baird; who both enjoy careers in the automotive industry since filling those water-logged shoes many years ago.
However, our focus today is on Liberty Bay's current upholders of car-cleanliness. Enter Zack and Dennis, car wash extraordinaires. The pair began their respective roles simultaneously, jumping head first into the fast-paced work of the wash bay in August 2019, and continue to work diligently into the onset of increasingly colder weather as Winter carries on.
Dennis maintains that his favorite part of his job is simply that "the days go by quickly," adding a *snap* as he proclaimed his liking for the fast paced work before dumping a can of recyclables into a bright-blue dumpster. Zack places his appreciation with the outdoorsy nature of the job, as well as the "immediate satisfaction of seeing a car go from dirty to clean." A commonality between the two, however, is a desire to advance within the company. Both Zack and Dennis have their sights set on the eventual opportunity presented by the interim Lube-Technician position, which has cycled through the training of a number of interim technicians.
In the meantime, while dreaming of oil-changes-future, the dynamic duo continues to put soap to car, and suction to carpet, providing a service entirely unique to Liberty Bay Auto, at least within Kitsap County's borders.
Having said all this, do be sure that the next time you stop by Liberty Bay, be it for anything from an oil change to an engine swap, that you take a moment to think upon the goodly pairing of wash bay heroes known as Zack and Dennis, as well as those who will follow in their soggy footsteps. Reflect, if only for a moment, on their continued hard work, keeping the cars of Poulsbo and beyond clean for the good people of Kitsap County.