LB's Largest Inventory Since '89!
April is coming to a close – a hopefully rain-free May on its heels – which means it's almost summertime here in Kitsap County, Washington – and the onset of better weather isn't the only exciting news worth sharing! Liberty Bay Auto Center's inventory is now almost at one-hundred pre-owned vehicles, which is the most cars, trucks, and SUVs we've ever had on our lot! We've currently got ninety-six excellent condition used and pre-owned cars for you to browse thoroughly in person, and conveniently on our website! A quick browse through our online selection and you'll find that we have everything from commuter cars, rugged trucks, and grand SUVs, in models that span from luxury to economy, and everything in between!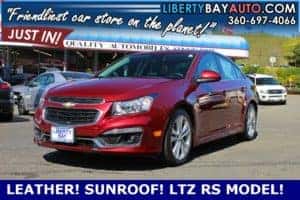 Are you looking for a domestically branded vehicle? Not to worry, we've got plenty of Chevys, Fords, and even a selection of Cadillacs for you to test drive! How about this incredibly economic '15 Chevy Cruze LTZ in radiant red paint? Boasting nearly forty miles per gallon on the highway, it's definitely worth a test drive if you're in the market for a new commuter! It also features plenty of modern day amenities, such as a digital backup camera, heated power seats, and an electric sunroof!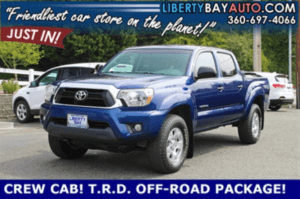 Maybe you're in the market for a historically reliable Japanese import? Good news! We've got plenty of Toyotas, Nissans, Hondas and more – ready for you to test drive today! Take for example this off-road-ready TRD edition '14 Toyota Tacoma in brilliant blue paint! Like everything we sell at LBAC, it's in great condition – there's not even thirty-five thousand miles on it yet! A totally capable 4.0L V6 engine under the hood makes this Toyota not only an off-road contender, but also leaves enough fuel economy to make for an acceptable commuter, too! Need a little help parking this slightly larger rig? No worries – it also comes equipped with the ever-handy backup camera!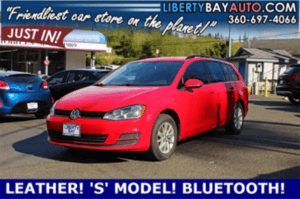 Perhaps you're looking for a vehicle that matches your active, sporty lifestyle? Well, it might be worth looking at this '15 Volkswagen Golf SportWagen that's red color accentuates its ready-to-go nature! This model holds an excellent rating with shoppers on Cars.com, sitting at a respectable 4.8 out of 5 stars. (That's almost as good as our rating on Google!) Being that this is the SportWagen model, it proudly boasts a more than generous amount of storage in the back for all of your sports gear, or perhaps for your canine friends?
No matter which vehicles you test drive, which vehicle you end up selecting, or even if you don't end up buying at all – our team of knowledgeable Product Advisors and motivated Sales Managers is here to make the car buying process transparent, quick, and even fun! Since 1989 it's been a primary goal of ours to cultivate a family friendly environment here at Liberty Bay, the kind of place that values people and good old fashioned business practices – and our efforts shine through in nearly 1,200 positive reviews on Google! On top of this excellent used car shopping experience, every vehicle purchased from Liberty Bay Auto Center comes with four free oil changes from the our in-house Service Department – which, by the way, was rated "Best Oil Change" by readers of the North Kitsap Herald in 2020!
If after browsing all we have to offer, you still find yourself in a position where you can't seem to spot the exact vehicle you're looking for – you can always make use of our locally celebrated Vehicle Finder Service! Kevin Hogan and the rest of our team of expert Product Advisors will scour regions up to nearly fifteen-hundred miles away to find the exact make, model, year, color, and trim package you're looking for! We'll take care of every bit of the shipping, inspection, and detailing, so that your experience can mirror that of buying a car right off our lot – simple and easy!
2015 Chevy Cruze LTZ – https://www.libertybayauto.com/inventory/used-2015-chevrolet-cruze-ltz-fwd-4d-sedan-1g1pg5sb1f7257540/
2014 Toyota Tacoma Base 4WD – https://www.libertybayauto.com/inventory/used-2014-toyota-tacoma-base-4wd-4d-double-cab-3tmlu4en5em162708/
2015 Volkswagen Golf SportWagen S FWD 4D Wagon – https://www.libertybayauto.com/inventory/used-2015-volkswagen-golf-sportwagen-s-fwd-4d-wagon-3vwc17au2fm513421/
Liberty Bay Auto Vehicle Finder Service – https://www.libertybayauto.com/used-vehicles/vehicle-finder/