"A New Era" | Poulsbo Welcomes New Detail Spot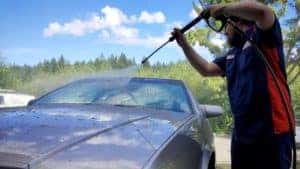 Since its founding in 1989, Liberty Bay Auto Center's Detail Department has desired innovation in its technique and the expansion of its capabilities. This attitude toward process innovation and staying ahead of the curve assures people coming in from Silverdale, Port Orchard, Kingston, and all over the rest of Kitsap County, that they've found the most experienced and friendliest automotive detail team to work with. Three decades have since passed, and this desire for advancement and growth hasn't waned. New faces, new technology, and most recently an entirely new detailing facility herald a new era for the plucky six-man team.
On a surprisingly quiet highway adjacent stretch of Seventh Avenue in Poulsbo sits building number 19820. Once home to an oil change franchise, its six-thousand square feet is now part of the Liberty Bay Auto Center land-holding under owners Dean & Sherri Church, providing some much-desired leg-stretching-room for what was once known as the Detail Department, now dubbed the Detail Center.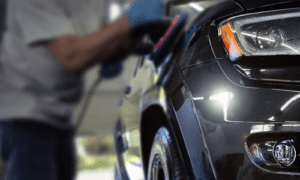 Vehicles can be seen pulling in and out of open garage-doors; dirty cars preparing for their first wash in months, and freshly washed cars -beaded with water- waiting to be dried. A peek over an isolated garage window shows a glimmering carbon-black Ferrari, a fresh coat of ceramic curing upon its surface in its dust-free temporary lodging. The scent of fresh-brewed dark-roast wafts through the large, open shop, and mixes with the faint musk of a dusty Toyota Prius. Automobiles of the nostalgic nineties, once housed under pine trees all across the state, wait patiently just a few minutes longer for the attentive care of a detailer to bring them back to a confident shine. It's often busy like this at Liberty Bay Detail Center, and everyone couldn't be happier.
To really appreciate the air of excitement among the crew in regards to their new home you need to have the context and comparison of their previous station in mind. Not only is the more-than-tripled floor space a point of great excitement, but being able to access that space from five separate bay-doors (as opposed to the previous one) is just as appealing. Other systematic improvements include pneumatically operated chemical pumps, a dedicated air-compressor, as well as plans for a fully enclosed indoor pressure-washing area. (Grab your nearest dictionary; look up 'cranky' – you'll find a photograph of an automotive detailer pressure-washing in a windstorm.)
The benefits of the move don't end with the Detail Department itself, though. The Service Department, still operating from the original location, was happy to absorb the additional space the vacating Detailers left behind. Since then, the space has been re-occupied by an additional five new hydraulic lifts, which technicians Steve and Bryan enjoy the exclusive use of.
Back at the barnyard, as it were, detailers stand in a well lit, two car length garage. Their meeting, forming a neat semi-circle, continues the ongoing discussion of an exciting new line of business that this very room is purposed for: Paint Correction and Ceramic Coating. An impressive advancement in exterior detailing, the ceramic product, professionally applied, creates an unparalleled shine and durable protective coating that is now more commonly seen on high-end luxury vehicles, but has enticed Kitsap drivers more recently, considering the frequency of inclement weather.Tenured members of the Detail Center crew were given specialized certification training in the application of the 'EPIC Ceramic Coating System,' the result of a partnership with MALCO Auto Supply. The word 'exclusive' comes to mind here, as there were simply no Kitsap County local options for this service previously.
Impressive new additions and accolades don't end there; in fact, nobody's quite sure where it's expected to end. New upgrades, equipment, and plans are introduced on a near-weekly basis. Essentially, the longer this department goes without a 'Eureka!' moment, the more likely it is that one's on the horizon. It's fitting, after all, considering their overall goal, to be the one place that Kitsap County drivers visit for every automotive detail need.