Liberty Bay ♥s February!
February is simply the greatest! Various celebrations and holidays in this winter month remind us of the importance of love as they leave our hearts chock-full of care and our pockets stuffed with chalky candies. I've compiled a few of these holidays and celebrations into a short list, as well as how they could relate to your second most important investment – your car!
DOGGY DATE NIGHT (February 3rd)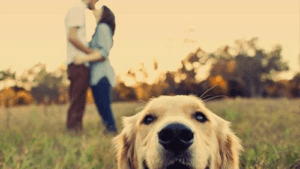 Doggy Date Night is a perfect opportunity to reach out to that special someone to suggest a play-date between your canine companions! Outdoor activities work best for this tradition, but not everyone has access to nature right in their own backyard. So what's to be done if you want to drive to the Howe Farm Dog Park in Manchester, or go hiking at the Green Mountain trails out near Tahuyeh? Whose car will you take?
Yours, of course – especially if you find yourself in ownership of the affordable Tesla Model III. After an update circa 2018, the Tesla comes with the available "Dog Mode" that keeps the vehicle cool and comfortable for your furry friends if you need to momentarily step away from the car. Our Vehicle Finder Service can easily source this vehicle for you and your canine friend!
But what if the trails you seek to adventure with your canine crew are a little out of the way? In that case, you may want something more rugged, like the 2018 Subaru Outback. Already a staple of tough driving, the Outback is perfect for getting you to all of the trail-spots safely and quickly. Spring for the "Onyx Edition" and you'll have a ton of extra outdoorsy features, plus a water-resistant synthetic upholstery that can be easily cleaned of muddy paw-prints!
The aftermath of having your pets along for the ride can sometimes be a bit hairy. Try our pet hair removal service through the Liberty Bay Detail Center! Call for pricing (360)-697-4066.
VALENTINES DAY (February 14th)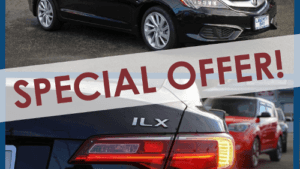 I'd say there are roughly three times a year that surprising someone with a new car with one of those giant gift-bows on it is truly acceptable. First is Christmas (a little ways to go for that one, yet) – of course on birthdays the bow is also permitted – then, last but not least, Valentine's Day! If you're looking to surprise your significant other with a vehicle this V-Day, your options with us are pretty vast!
In the spirit of giving and saving at the same time, you should know that Liberty Bay Auto Center always has reduced pricing on some inventory that we've marked as Special Offers on our website! A quick trip to Kelly Blue Book's website will often list these as a 'Great Price' when compared to other dealerships in the area!
If those deals aren't enough to get you treating your significant other to a new ride, remember that we always keep a stock of vehicles priced under 10k as well, so there's no lacking of deals available to you and yours! (And yes, we'll provide the bow!)
SINGLES AWARENESS DAY (February 15th)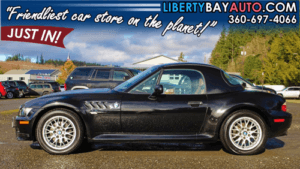 While the ever-popular Valentine's Day takes place on the 14th, some may not know that Singles Awareness Day is on February 15th! The day aims to bring love and attention to the lonely hearts out there (aside from those made whole by the magic of doggy-date night and Valentine's day, of course).
While my official stance is that it's what's on the inside that counts, a shiny pre-owned car on the outside never hurt dating efforts, either. We've actually just sold the 2015 Dodge Challenger in our inventory that had perfectly fit this ticket – two doors, a sleek yet aggressive design, and the on-demand-horsepower to send the rear tires spinning – if your passenger/date's into that kind of thing. It'd be easy for our lead buyer, Kevin Hogan, to find you another! If you're more into the Euro-sport scene, the BMW Z3 pictured here is a fine option that we do have available for test drive now.
I hope you enjoyed this fun escape into the month ahead – and I wish you a love-filled February full of family, friends, and everyone you hold dear!