Staff Picks | Two 2018 AWD Heroes
One of the things customers love most about Liberty Bay Auto in Poulsbo, WA is that we employ a wide array of tenured individuals with experience in every facet of the used car business! We know that our technicians and the rest of our staff have a wealth of automotive knowledge to impart on our Kitsap customer base, and we're here to share their knowledge and opinions with you! In that spirit, here's our first Staff Picks article: A few Product Advisor's picks for favorite AWD models you'll find on a quality used car lot like ours today.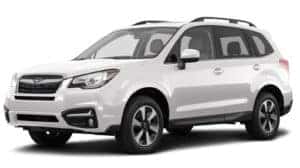 First up, chosen by Liberty Bay Auto Center Product Advisors Sean Chapman & Renee Maggio, it's the 2018 Subaru Forester. A vehicle we really shouldn't be at all surprised to see on this list, the '18 Forester features a roomy cabin with excellent visibility and a panoramic sunroof t'boot. It's exterior isn't bad to look at, either, as Subaru's angular design direction for it's late-twenty-teens models seems to continue paying off. The premium package comes with a panoramic power moonroof, automatic climate control, and a 10-way power adjustable driver's seat. You also get an upgrade to your entertainment with a 6-speaker sound system and 4G LTE Wi-Fi capability. Our Product Advisors particularly favor the Grey or Crystal White Pearl paint jobs with the Peanut Butter or Dark Brown interior color schemes; and although they're right, those do look good, the standard all-wheel drive and extra ground clearance are what we're focused on today. Like most all vehicles available from the Subaru lineup, the Forester comes standard with Subaru's Symmetrical All Wheel Drive System. Not only does the system perform well in slick road conditions, but it also utilizes less components than that of the standard All Wheel Drive vehicle, meaning a lighter, more fuel efficient vehicle. Subaru's Symmetrical AWD system also operates full time, without the need to be switched into a special 'mode' for ice/snow/rain. There's another part about this AWD system that's worth noting, and that's the system's ability to transfer power to wheels individually, from left to right, wheel to wheel. Meaning you can lose traction with three other wheels and still move! Many competing AWD systems can only move power axle to axle and not side to side. This is not only a benefit during harsh road conditions, but also comes into play on dry surfaces while cornering or making accident avoidance maneuvers. The recent generation of Forester is an excellent choice for those looking for a compact SUV, and if you'd like to work with someone enthusiastic about these cars, Sean or Renee would be excellent people to help source one for you!
Ross Carlson, another Product Advisor at Liberty Bay Auto Center, and a bit of a gear-head as well, goes a different brand direction for his used AWD choice; enter the 2018 Honda CR-V, specifically, the 1.5 liter Turbo model. Similar to the Forester chosen by Sean and Renee, the CRV is a versatile setup housed in a small-bodied SUV. It boasts excellent fuel milea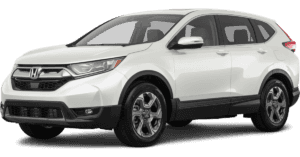 ge for an all wheel drive sport utility vehicle, achieving up to forty miles per gallon on the freeway. This model is powered by an inline four cylinder gasoline engine paired with a small turbo that provides great acceleration. Ross favors the Honda specifically for it's nearly-assured longevity, "when meeting its basic maintenance needs to keep the car on the road, you'll in turn be met with a high reliability." Simple interfaces built to control a myriad of 'techy' options are displayed prominently center-dash. But how's the all wheel drive? The 2018 Honda CR-V offers an available Real Time AWD with Intelligent Control System. Normally a front-wheel drive vehicle, if it senses its losing traction, the AWD will engage the rear differential so that all four wheels are driving the vehicle instead of two. Some may see this as a downside when compared to Subaru's always-active Symmetrical AWD system, but Honda professes that unlike the momentary lag of a traditional AWD system, "the Honda Real Time AWD™ with Intelligent Control System provides a virtually instantaneous transition from 2WD to AWD. Most drivers won't even notice when their Honda switches to AWD, it's that quick and smooth."
A Product Advisor like Renee, Sean, or Ross can help you find either of these two models, with low miles, in a snap! Stop by Liberty Bay Auto Center in Kitsap County, Washington or call 360-697-4066 today!