'The Detail Center' One Year In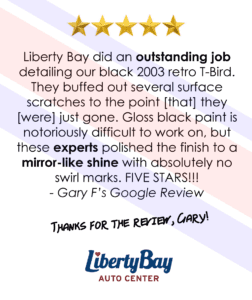 Among the unusual circumstances surrounding the COVID-19 Pandemic, in April 2020 Liberty Bay Auto Center quietly patted itself on the back in celebration of its first year of business in it's new Detail Center; a venture they first started when LBAC owners, Dean & Sherri Church, signed the paperwork to buy the 7th Street property in Poulsbo, Washington in early 2019. Outside, the grey-brick building looks much the same as it did on opening day; save for the addition of some vinyl logo-work on the windows, which readily identifies the business and it's direct association with Liberty Bay Auto – the dealership. Behind those walls an expertly orchestrated feat of detailing magic is carried out, with six highly-qualified individuals making it all happen. 
In an earlier post, when we first checked in with this small crew, the general reception was pure excitement – both for a newer, larger space, and the opportunity to create a fully equipped detail shop like no other in Kitsap County. A whole year later, and that excitement has stayed alive and well. 


Leading this team of high-demand detailers is veteran auto-body and detail expert, Calaeb Barnett. Filling the Detail Manager role since shortly before the Center's opening, Calaeb says "It took time and effort to get things right, but our team makes things easy and streamlined. It's a good bunch of guys." Moreover, Calaeb expressed his enthusiasm about the facility itself – "I'm most proud of the fact that our shop is extremely organized – our chemical room is my favorite part – it's high tech compared to our old ways and honestly, getting to oversee that project was really cool." He concluded, "I know our guys love the ease of use." Calaeb is referring to a pressurized chemical dispense system that was installed to replace the now-archaic process of continually needing to refill spray-bottles of chemicals with heavy jugs of things like engine de-greaser, interior cleaners, and a product referred to simply as 'wheel acid.'
Lead Detailer David Matkin wasn't present for the building's initial opening, but when asked how the shop stacks up against other facilities he's worked in he said, "I've worked for a few different detail shops, none of them as well put together as this here. It's nice to work in a shop that keeps the work-day smooth just by having such a nice facility to do the work in."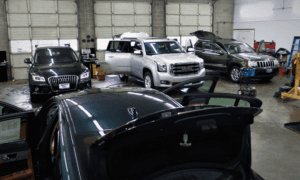 General Manager, Erik Lelevier is privy to the operations of each of Liberty Bay Auto Center's departments – Retail, Service, and Detail alike – so naturally he seemed like a good guy to ask about the shop's overall progress. "Communication across the company was clear to begin with, which helped us to make advancements quickly." He goes on to talk about that communication, and how it turned into forward momentum. "As an employee, if your advice is being listened to, and your ideas are part of the equation, it's a rewarding feeling – and that's exactly what I want for everyone here." He continues, "The Detail Center is a prime example of how things can turn out when a coordinated effort is made to listen to what your employees want." Erik then made an additional observation about the move's mutual benefits. "Not only does it benefit the Detail Team to have this facility, but it helps to have the space available for more Service Department work, here."
Oddly enough, while working on this article I was fortunate enough to win a free Classic Detail Package by this top-notch shop. (Yay for raffles!) So as a close to this article, I figured I'd share my personal testimony to the quality of this facility's work. My 2006 Volkswagen Jetta, nicknamed "Lorelai" entered their shop with a lackluster silver paint job, a few undesired stickers on the roof, and a healthy amount of grime and dirt worked into the carpeting. After being handed back my keys, I gotta say, I couldn't be happier with the way my car looks, inside and out. Every seam in every seat looks like it was just sewn at the factory, not a speck of dirt to be found. The exterior boasts a shine I didn't even get to see when I first bought it from a private seller. Don't believe the testimony of an admittedly biased employee? I've included some customer reviews below!
If the coming year of business tracks the same level of communication, quality, and progress for this team, I have no doubt that the local area, and much of Washington State, will have heard the Liberty Bay Auto Detail Center name, which is more than deserved.